I got a GPS. I think it's a good thing. I don't get lost as often, though when I do get lost, when it rains too hard or there's a building or a hill or a tree with a lot of leaves on it to the south, I get to an exciting new level of lost, LOST SATELLITE lost. You have no clue where you are because you have no idea where you've been. You pull over, get out of the RV and hold the unit up to the sky, as if to bring it two feet closer to the satellite, in a prayer for guidance, that the words and signs of the true path might once again be yours.
I got the GPS from a patron/friend, one of the small circle of repeat customers I have across the country now, folks who gather up projects and chores for me, allowing this moving day job along the stops of a songwriter's tour. Given how it became available, it was either a gift or he was subtly inviting me to use it, to hit the road, don't let the grass turn brown under your RV.
He had brought the unit to a gig about a year ago and asked me if I could fix it. The charger was shot, and it's an older model, so it took a few days to get a replacement, and each of those days began with a phone call from him asking if it was working yet.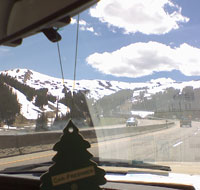 I understand those calls now. Once you get used to the little voice on the dashboard telling you when and where to turn it's real hard to travel without it. I imagined him cooped up in his apartment, running low on groceries, so I returned the now working GPS without trying to figure what killed it.
It worked for a few months. He called when it broke again. I went over, and without even touching the GPS unit, proceeded to disable many important electrical systems on his car. It was a cascade, as each new action and theory applied killed yet another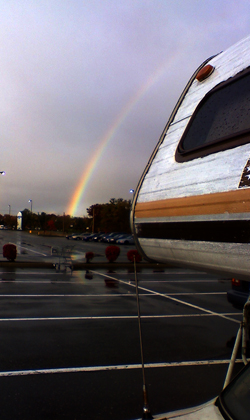 circuit.
I was able to get the GPS working again, which proved helpful in locating the nearest authorized Hyundai dealership. Though technically I had successfully repaired the unit I was called out to fix, I sensed that the value of this work to the customer was somewhat diminished by that cascade.
The unit stopped working again some months later, and I don't know if I was away on tour or if my friend had just grown fond of having operating turn signals, radio, wipers and such, but he did not call me and just bought a new one. When I saw him next he gave me the old unit, saying fix it and keep it.
I have followed the cheerful voice and arrows for seven months now, a series of great gigs mixed with the day job in motion, Kerrville and Wildflower and Swallow Hill and Steel City and Acoustic Brew, open mics and house concerts played between basement renovations, fans hung, lights lit, floors tiled, friends met and made, to this side yard of a house in Fall River, MA, beneath the changing leaves of autumn in New England.
I've logged about 8000 miles so far this year, about half what I would have driven had I stayed in one place and commuted to work. The grass has not turned brown beneath this RV. I'm home.
2008 Stories
2007 Stories
Nick kept stories to himself.
2006 Stories
- Suwannee Springfest
- Vic's Music Corner
2005 Stories
- Hurricane Wilma
- Fall River, MA
- Desert Southwest, U.S.
- Kerrville, TX
- Wildflower!
- Hitting the Road
- Leaders Only Follow?
- Most Improved...
- The first time we saw Don White...
2004 Stories
- Heart's Desire House Concert
- Moore Music in the House (Concert)
- On recording, early excuses
- The BioJukebox Gig
- Step 1: Make yourself perfect
- On planning a tour
- Meeting Michael Troy
- The grassy knoll