November 2004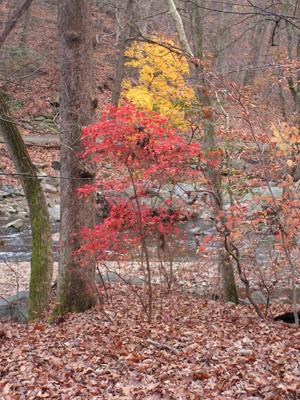 Late November, the autumn golds and reds carpeting the streets and sidewalks, the city louder now through the bare branches. DC is a pretty, changing place, many parks, with woods left untouched since the Revolution.
I have been lost in it often this week, traveling the Beltway to pick up various recordings scattered in Virginia and Maryland, then wandering the back roads through hamlet and burg, wishing my way home.
There are maps in the glovebox, a pack of them I've picked up this past year, roadside purchases in the visited cities I've found myself lost in. Beltway cities are potholed, an army of cars between you and your destination, another honking and flashing from behind you, yet that's where many of the gigs are. There's a frenzy required to survive that road, a flow that will take you somewhere if you can just keep from being run over. A few seconds reward if you're willing to squeeze into that gap of velocities, a minute won or lost trying to guess the better lane.
Chasing cheese, I suppose, as we all are, reporters and editors of our own experiences, carrying our banners and biases, claiming our high ground with planted flags, climbing our flagpoles for a better view, while an awareness shift away we are in a valley, and we are drilling.
Me, I've been hanging in the right lane, wondering if there's not some smoother way to get there. Wondering a lot about "there" and a lot more about the getting. Chasing cheese is what I came to music to avoid. Perhaps it's just fear, either that this car won't make it, or that it will, a habit formed from milking the last miles out of rustbuckets, a need for the nearness of the breakdown lane or the next exit.
But for now I am comfortably lost, traffic is light, one more recording left to pick up, that of our house concert last night at the home of Scott and Paula Moore. A split bill with Kort and Beth McCumber, siblings from Colorado, one of the nicest evenings I've spent as a performer. Our second set was all requests, by folks that had heard us before and came out to see us again. The Moore recording has a version of June, 1989 with Kort on bouzouki, Elizabeth on fiddle, and Beth on viola, and I'm anxious to see how it came out.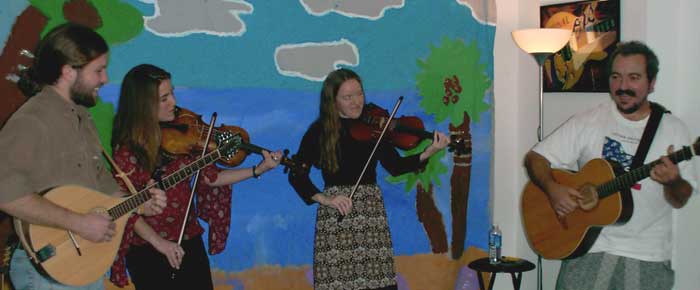 Potholes aside, it has been a damn fine year, from an open mic at Half-Moon last November to the Moore house concert yesterday. Heading to Florida this week to edit these collected songs and stories, from the Barker's, Uncle Calvin's, Jammin Java, Main Street, The Blackrock Center, and a performance with Chris Chandler in DC.