January 2006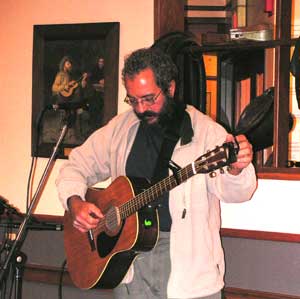 DC is ice and slush, a thousand miles and 50 degrees Fahrenheit from Florida, opening for Chuck Brodsky at Vic's Music Corner, a slew of repair jobs lined up to pay for the trip. I've been trying to balance these two, the starving artist and overweight repairman.
I travel with tools for both but have been slowly upgrading the gig bag while thinning out the toolbox.
I open my set at Vic's with a self-deprecating joke.
"One thing you don't want to do as an opener is to be better than the main act." Pause. "Tonight this will not be a problem," which got a laugh, and a rebuke at the intermission.
"Don't apologize from the stage," a stern man tells me. I did not get his name but his face is clear in my mind, and I will thank him next time I see him. Because he's right.
If I approached repair jobs with the same attitude I'd be saying, "Gosh, I'm not that good, I'll probably just put a screw through my thumb, but I'll try to fix your door."
Echoes of Chuck Pyle's saying, "Don't be so humble. You're not that important." Humility is fine offstage but has no place on it, a lesson driven home by a stranger.
I get back to Florida and pick up the power tools again, broken things fixed, missing parts found, for about a week, when on the same Friday I get the email notice that I'm a finalist for Plowshares and a phone message from Chuck Brodsky that he wants to cover my story In the Beginning on his new CD, Tulips for Lunch. I call him back and ask how much it will cost me. He says, no, the way it works is that he pays me. What a country!
The songwriter made it to the buffet table this month, the fixit guy to Jenny Craig.
I go over to Fogartyville Cafe in Bradenton to see Michael Troy and bring him back for the shows at The Shack in the Back, Ellen Bukstel and Brain Wolfsohn's replacement concert for the cancelled South Florida Folk Festival, a great two days of music amplified by hanging with Michael, John William Davis, and Eric Schwartz, amplified again by winning the SFFF songwriting contest along with Jen Cass and Jim Photoglo.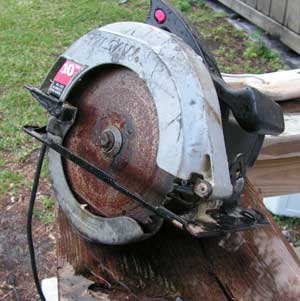 Whether by accident or design (like there's a difference) I left my SkilSaw out in the rain last week. It's a start. And if you need any repair work done around your place, I hope you'll consider hiring me for the job.
I'm really not very good.