August 2005
On a Massachusetts interstate under construction, boxed in a moving canyon of semis, the RV is a lumbering bird in the wheeling flow of a three-lane flock, flanked by Jersey barriers, skipping over a quilt of patch and pothole. There is nothing in the world but the nuance of sway coming from the truck ahead, each dip and veer and red light brake of it is a coming road condition, a string to my hand and foot. If he plunges off a bridge I'll be right behind him. There's nowhere else to go.
The drawbacks of touring in the RV are magnified. It is neither quick nor fast, and I suspect that no RV advertisement anywhere has or will contain the word 'nimble'. It is responsive, but then so is a plant if you're patient enough. The advantages have been worth the trade-off. Rest stops are restful. You've brought your bedroom with you. Also your stove, refrigerator, kitchen sink and bathroom. You're not scrambling in strange cities, foraging for food and shelter. Cold drink, hot coffee, or home-cooked meal is yours at the touch of a brake pedal. When you stay with friends you impose less on them. You're not in their way. You're in their driveway.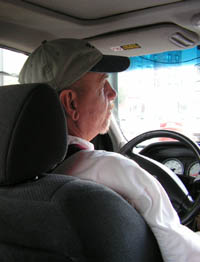 We make it to Michael Troy's house, live for a while in a driveway in Fall River. We expected to see him at Wildflower this year, but Mike had to pass on that festival to prepare for a bone-marrow transplant. Next week they'll beat him up with chemo, but this week he's strong, same crappy driver I remember as he shows me the places in his songs. A row of tenement houses on the river, "…the brick mansions by the sea", to the docks of the working trawlers, past endless stone fences, he shares the stories of the land and the water and the mills, shares his home and family and love with us both. On a late afternoon we stop and walk through a graveyard, the four of us, me and Mike, Elizabeth and Mary Lou, past stones weathered and worn unreadable by centuries, cut through the back corner and walk a path to land that's been farmed for 500 years. To the long-dead trunk of an ancient tree, The Council Oak, where Massasoit gathered the Wampanoag and decided to give food to their starving neighbors in Plymouth Rock, 1621. Where Massasoit's son gathered a generation later to lead the first massacre of those settlers. But this is Mike's story, his latest song. I'll let him tell it.