Elizabeth Crisfield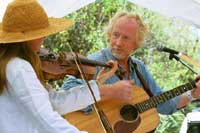 Elizabeth is a classically trained violinist who turned the violin into a fiddle after contra-dancing for years. While living in the Miami, FL area her collaborations included a contra dance band, Arch Creek, and a Celtic duo, Rivergrass, with a charming Scotsman, Murray MacLeod.
Elizabeth and Nick met in the spring of 2002, at a beautiful venue in Homestead, FL, the Main Street Cafe. With Nick, Elizabeth plays contemporary folk fiddle and mandolin, dipping lines between Nick's words, and occasionally running a traditional tune between the songs and stories.
After six great years with the National Park Service at Everglades National Park, Elizabeth taught high school and community college physics and is now a graduate student at Penn State studying the impact of climate change on forests in the Appalachian Mountains.
Music is on the back-burner for a short while while she and her husband, Doug Henry, focus on raising their son Ames, born in the summer of 2010.
For more information about her work and other interests please visit www.elizabethcrisfield.com.